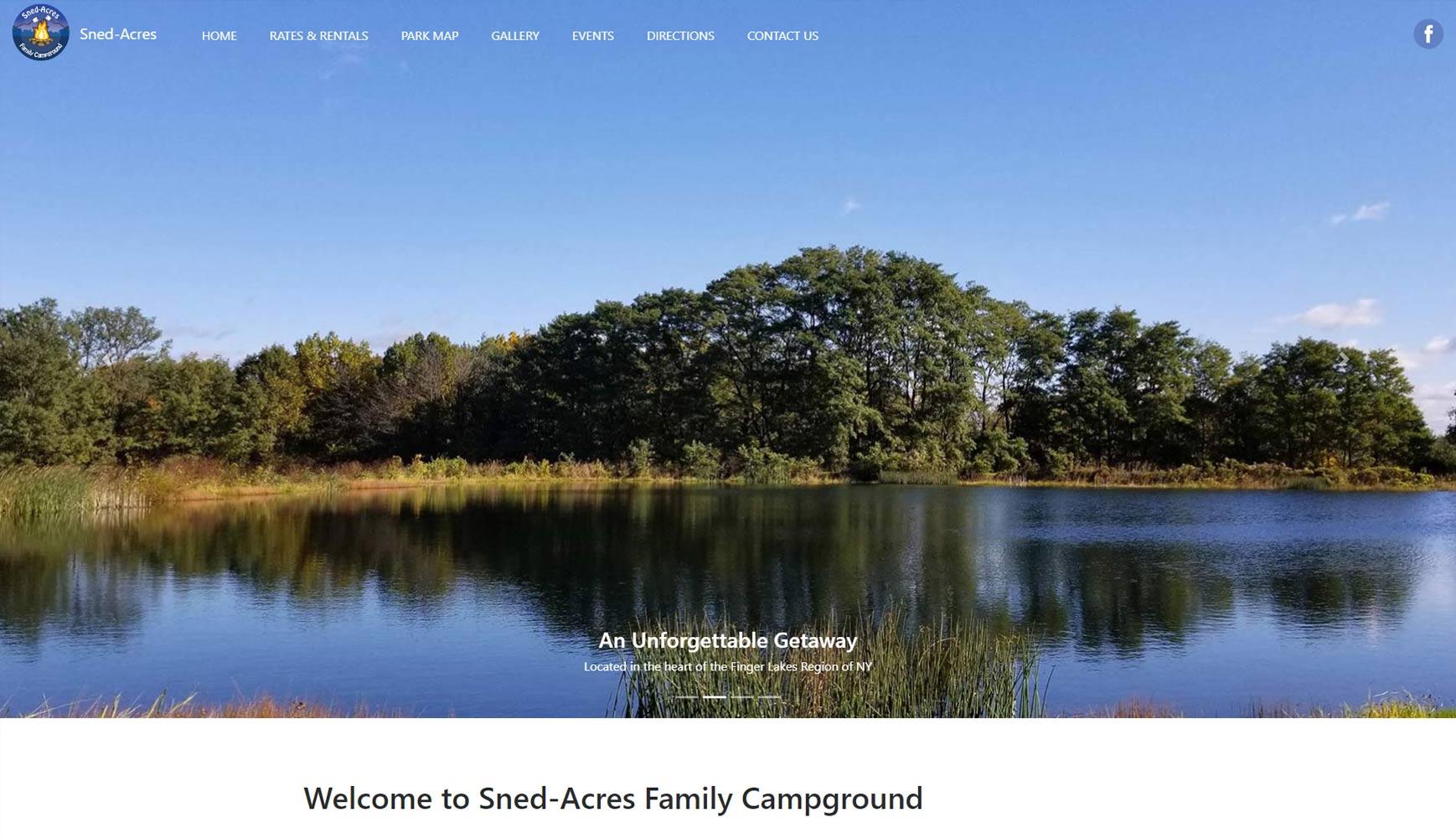 We recently assisted Sned-Acres Family Campground by redeveloping their complete online business profile, including developing a completely new web site at a new domain name which we suggested.
The new web site was developed as a responsive Drupal based web site based on Bootstrap 4, with a core focus on proving customers with the ability to showcase all the campground has to offer as well the current seasonal rates.
We took great detail to focusing on keeping maintenance of the site as simple and easy as possible, building out a custom administrative dashboard which greatly assists in making maintenance of the site as simple as pie at Thanksgiving dinner.
A core part of this project was assisting Sned-Acres Family Campground in gaining control of their Google Business profile online, allowing them to directly reply to customers providing feedback and reviews on Google Local as well as Google Maps as well as providing direct control over the hours, web site, address, pictures and more which are listed in their local Google search results. This now allows Sned-Acres Family Campground a quick and easy method to ensure accuracy of information online and ensure they are keeping in touch with thier customers who choose to provide feedback, photos and reviews directly via Google. Google even provides a mobile app for both iOS and Android to keep this very simple for busy business owners.
Part of this project also required the collection of new photography for use on the new site, which we were able to collect just in time to profile the campgrounds before winter. We did not outsource the photography aspects of this project, so nearly everything you see on the new site, snedacresny.com, was photographed by us which helped to keep project costs as low as possible. 
To wrap up this project, we developed a YouTube Channel to profile a recent advertisement, following up by embedding the video on the main page of the site as well as ensuring Google Analytics was installed and that the management of Sned-Acres's understands how to keep an eye on how their new web site was performing.
It was a pleasure to work with Sned-Acres and assist them in optimizing their business online and look forward to continuing to assist them in the future.
Please contact us to assist in optimizing your business online. We've been in the business more then 20 years, utilize industry proven methods and focus on keeping costs as low as possible while providing excellent end solutions your customers will utilize again and again.